Prachin Shiv Mandir
UNIQUE SHIVLING IN GANGATH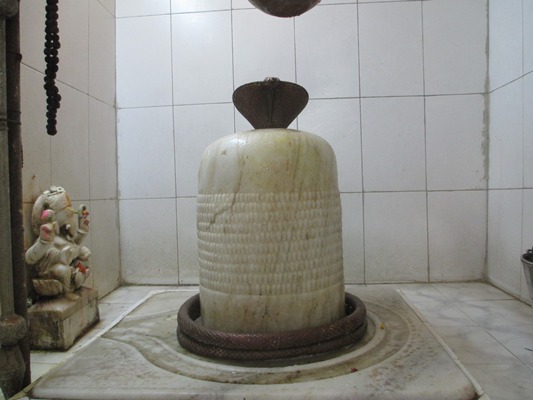 The white Shivling of historical SHIV temple of town GANGATH (Distt. Kangra, HP) is unique in its kind. Every stranger is surprised to see this white shivling. This kind of shivling is not found anywhere in India. The height of this Shivling is 20 inches and its circumference is 52 inches and it is decorated with one thousand RUDRIES. A copper made idol of NAG DEVTA and a cemented NANDIare set up in the temple.
This shivling of Gangath is historical. The history of King of Nurpur RAJA JAGAT SINGH who was a great devotee of Lord Shiva and Lord Krishna, is related to this shivling. It is said that RAJA JAGAT SINGH used to worship this shivling at MAOGARH. RAJA JAGAT SINGH has impressed queen NOORJAHAN with his extraordinary skills. Therefore, on the recommendation of queen NOORJAHAN the Mansabdari❠of RAJA JAGAT SINGH from Mughal Darbar was increased from Rs. 5000/- to Rs 10000/- But RAJA JAGAT SINGH did not wanted to depend on the mercy of Mughal Darbar. So RAJA JAGAT SINGH had revolted against Emperor SHAHJAHAN in 1641. Emperor SHAHJAHAN had sent Mughal army under the leadership of Prince MURAD BAKSH to control the revolt and to destroy the MAOGARH.
Prince MURAD BAKSH had kept an eye on the strength and power of RAJA JAGAT SINGH for three months from BAHRAMPUR and then attacked the fort NURPUR via PATHANKOT. The huge Mughal army captured the fort NURPUR and TARAGARH and destroyed them completely. The fort Mao was also attacked from DAMTAL side, form GANGATH (RAPPAR) side and from RAJA-KA-BAGH (NAGABARI). The fort Mao was completely destroyed by Mughal army on Nov09,1641. And this Unique white historical shivling was lost in debris. RAJA JAGAT SINGH had brought this shivling along with Idol of Lord Krishna(in front of which MEERA BAI used to dance) and tree MOLSARI from Rajasthan. RAJA JAGAT SINGH has set up this idol of lord Krishna(made up of black marvel) and the tree MOLSARI in Brij Raj Swami temple of NURPUR. In 1645, emperor SHAH-JAHAN deputed RAJA JAGAT SINGH, the commander of army and send him to win over the estate of AJBEGO. When RAJA JAGAT SINGH was returning to Delhi, after winning SAMARKAND and AJBEGO , he fell ill and died in 1646 in the fort of Peshawar.
According to old myths Lord Shiva ordered Baba MAGGO(a member of Katoch family from INDPUR)in his dream to dig out the Shivling which has been lost in the debris of the fort Mao during the war with the Mughal emperor. Baba MAGGO along with some companions went to Mao fort and started digging up the place which he had seen in his dream. While digging up, when the spade hit the shivlinga, the milk started flowing from the shivling. On the way, back to INDPUR, they kept down the Shivling in the GANGATH BAZAR for rest. After that, when they tried to pick up the shivling once again, it became so heavy that it was impossible for them to lift it again. Now on the advice of old wise persons, it was decided to build up the temple in GANGATH BAZAR and to set up the shivling at that place.
In the nearby villages, when a new Shiv temple is to be built, Shivlinga of that temple is first brought to this Shiv temple of GANGATH, to be touched with this Unique White Shivling and then established at its place.
Another very interesting fact related to this temple is that whenever, there is no rain and a drought like situation prevails, the people of nearby villages get gathered together to worship Lord Shiva to please him for rain. For that they keep offering the water of Ravine CHOUNCH to this Shivling till the offered water flows back to CHOUNCCH after covering a long distance. As soon as the offered water reaches back to CHOUNCCH, it starts raining.
It is believed that if in the month of SHRAVAN a devotee of Lord Shiva takes bath early in the morning and offers water to this shivling prior to all with full faith, Lord Shiva fulfills all his desires.
Every year, on SHIVRATRI a big fair is held at this place and people from faraway places come to see and worship this white Shivling, unique in its kind to get the blessings of Lord Shiva.
*********************JAI BHOLE SHANKAR********************